Construction Start

June 2014

Occupancy Date

April 2016

Number of Units

80 Apartments
Studios, 1, and 2 Bedrooms

Building Size

73,900 Square Feet
5 Floors

Development Cost

$20.5 Million

Capital Financing

NYS HCR Low Income Housing Credits

City of New York Land donation

JPMorgan Chase Bank

Enterprise Community Investment, Inc. and American Express

NYSERDA

Nonprofit Partner

Housing Partnership Development Corporation

Social Services Provider

CAMBA, Inc.

Architect

SLCE Architects

Contractor

D.P. Group General Contractors / Developers Inc.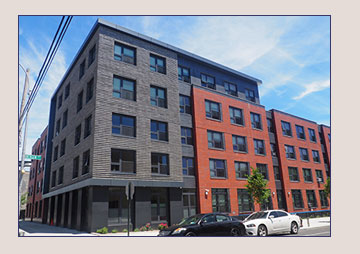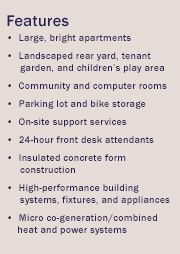 Located in the Ocean Hill/Brownsville section of Brooklyn, Bergen Saratoga Apartments provides affordable housing for low-income working families at 50% and 60% of Area Median Income along with units set aside for formerly homeless individuals under the New York/New York III initiative. CAMBA, Inc. provides 24-7 front desk services as well as supportive services from a 1st-floor office suite. Amenities include a community room with a kitchen, a library/computer room with high-speed Internet access, a tenant garden, an exercise area, and a children's play area. This project is a true public-private partnership, with land contributed by the City of New York coupled with subsidies provided by the State of New York and private bank financing. Bergen Saratoga Apartments is the second Dunn Development Corp. project to be built using insulated concrete forms (ICF), which provides a continuously insulated cast-in-place concrete structure that significantly enhances thermal efficiency and performance when compared to traditional CMU or cast-in-place structures.