Construction Start

December 2006

Occupancy Date

October 2008

Number of Units

33 Apartments
Studios, 1, 2 and 3 Bedrooms

Building Size

38,435 Square Feet
6 floors

Development Cost

$8.6 Million

Capital Financing

NYS HCR Low Income Housing Credits

NYS Housing Trust Fund

Richman Housing Resources LLC

JPMorgan Chase Bank

Nonprofit Partner

Friendly Baptist Church

Social Service Provider

The Center for Family Support, Inc.

Architect

SLCE Architects

Contractor

Artec Construction & Development Corporation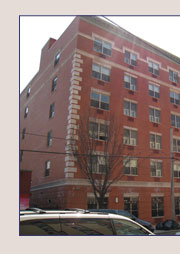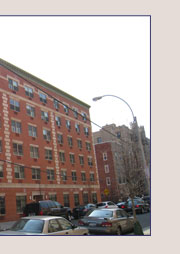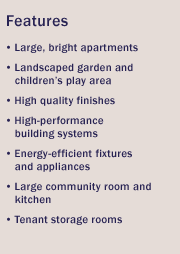 Located in the Highbridge neighborhood of the Bronx, Friendly Towers transformed the underused parking lot of the Friendly Baptist Church into an innovative affordable housing initiative. In addition to serving low-income working families, the building includes a pilot project for adults with developmental disabilities who have custody of their children. The Center for Family Support, Inc. provides on-site services to promote independence for this growing and underserved special needs population. Friendly Towers also features a children's play area, landscaped outdoor seating area, and a community room with kitchen for parties, meetings and special events.