Construction Start

February 2014

Occupancy Date

October 2015 and April 2016

Number of Units

278 Apartments in 4 Buildings
Studios, 1, 2 and 3 Bedrooms

Building Size

277,000 Square Feet Residential Space
28,000 Square Feet Retail/Community Facility Space
6-8 Floors

Development Cost

$90 Million

Capital Financing

NYC Housing Development Corporation

NYC HPD Loans and Tax Credits

NYS HCR State Low Income Housing Credits

JPMorgan Chase Bank

JPMorgan Capital Corporation

Nonprofit Partner

Housing Partnership Development Corporation

Social Services Provider

CAMBA, Inc.

The Center for Family Support, Inc.

Architect

SLCE Architects

Contractor

L&M Builders Group LLC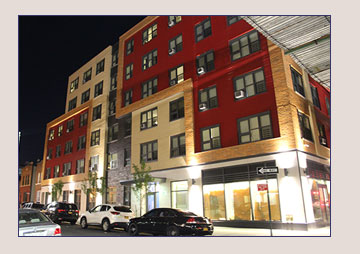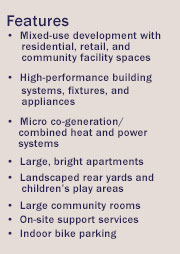 Livonia Commons is revitalizing the Livonia Avenue corridor in East New York, Brooklyn with a dynamic mix of new affordable housing, retail stores and community spaces. Livonia Commons includes 278 units of affordable housing across four buildings serving families at a range of incomes with more than half of the units for households earning less than 40% and 50% of area median income. 51 units of supportive housing are integrated into the project with on-site support services provided by CAMBA, Inc. and Center for Family Support. To meet the needs of the neighborhood beyond affordable housing, Livonia Commons has 28,000 square feet of new stores and community space designed to create a vibrant, active streetscape including a new arts center operated by ARTs East New York, a pharmacy, a Catholic Charities HomeBase program, and a Brooklyn Defender Services legal services center. Dunn Development worked with the City of New York to upzone 10 blockfronts along the corridor to facilitate new development. Livonia Commons was awarded a 2017 Building Brooklyn Award in the Residential-Affordable category from the Brooklyn Chamber of Commerce.