Construction Start

March 2014

Occupancy Date

June 2016 through June 2017

Number of Units

99 Condominium Units
1, 2 and 3 Bedrooms

Building Size

113,000 Square Feet
Residential Space
1,600 Square Feet Commercial Space
12 Floors

Development Cost

$24.9 Million

Capital Financing

Wells Fargo Bank, N.A.

NYC HPD Loan

Developer Equity

Co-Developer

L&M Development Partners Inc.

Nonprofit Partner

Housing Partnership Development Corporation

Architect

FXFowle Architects, LLP

Contractor

Congress Builders LLC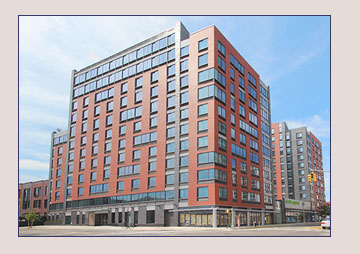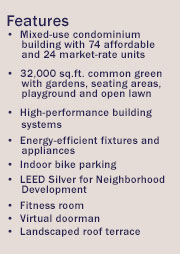 Located across the street from the Brooklyn Navy Yard, the townhouses were the final new construction phase of the Navy Green project jointly developed by Dunn Development Corp., L&M Development Partners Inc., and Pratt Area Community Council. The site consists of nearly a full city block where the former Navy Brig once stood. The co-developers were awarded the rights to develop the site after responding to a Request for Proposals from NYC HPD. The overall site development consists of a mix of rental and homeownership units serving people at a wide range of income levels, commercial and community facility space on Flushing Avenue, plus a common green with active and passive recreation areas and landscaping shared by residents of all buildings in the project. These market rate townhouses complete the vision of Navy Green as a truly mixed-income, mixed-tenure and integrated development that serves as a model for future urban development. Navy Green won the prestigious Urban Land Institute New York Award for Excellence in Housing Development in 2017.