Parkside Terrace
3211 Parkside Place, Bronx
Construction Start

January 2017

Occupancy Date

October 2018 (anticipated)

Number of Units

80 Apartments
Studios, 1, 2 and 3 Bedrooms

Building Size

76,165 Square Feet
7 Floors

Development Cost

$29 Million

Capital Financing

NYS HCR Low Income Housing Tax Credits

NYS HCR State Low Income Housing Tax Credits

NYS HCR Middle Income Housing Program Loan

JPMorgan Chase Bank

Nonprofit Partner

Housing Partnership Development Corporation

Social Services Provider

AHRC New York City

Architect

SLCE Architects

Contractor

D.P. Group General Contractors/Developers Inc.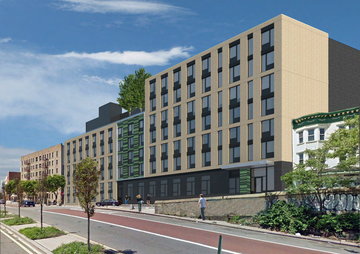 Features
Large, bright apartments
Landscaped roof terrace
Rear yard garden, children's play area
Large community room
Bike storage
On-site support services
High-performance building systems, fixtures and appliances
Parkside Terrace will be a newly constructed seven-story, 80-unit elevator building located on vacant land in the Norwood neighborhood of the Bronx. The project will be a mix of studio, 1, 2 and 3 bedroom apartments along with on-site program space, a landscaped roof terrace, and a rear yard children's play area. As part of the NYS HCR Neighborhood Revitalization Cross Subsidy Pilot and LIHC Mixed Income Initiative, the project will serve households at 50%, 60% and 95% AMI. 12 studio apartments will be set aside for adults with developmental disabilities who will be referred to the building through the New York State Office for People with Developmental Disabilities with on-site support services provided by AHRC New York City. The building features a 6th fl landscaped roof terrace, a rear yard garden and children's play area, a community room, a laundry facility, and secure indoor bike storage.