Via Vyse
1812 Vyse Avenue, Bronx
Construction Start

July 2017

Occupancy Date

June 2019 (anticipated)

Number of Units

121 Apartments
Studios, 1 and 2 Bedrooms

Building Size

104,572 Square Feet
12 Floors

Development Cost

$46.4 Million

Capital Financing

NYS HFA Tax Exempt Bonds and Low Income Housing Tax Credits

NYS HCR SHOP Subsidy Loan

JPMorgan Chase Bank

Red Stone Equity Partners

NYS HCR Low Income Housing Credits

Nonprofit Partner

Housing Partnership Development Corporation

Social Services Provider

CAMBA, Inc.

Architect

Dattner Architects

Contractor

HLS Builders Corp.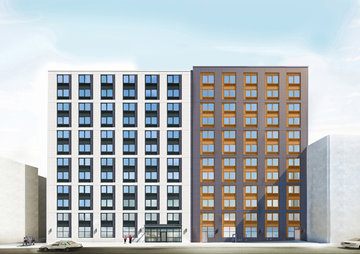 Features
Large, bright apartments
Rear yard patio, children's play area, & tenant garden
Landscaped roof terrace
Community room, computer room/library, and gym
Bike storage
On-site support services
24-hour front desk attendants
High-performance building systems, fixtures and appliances
Via Vyse will be a newly constructed, twelve-story, 121-unit elevator building located on privately owned vacant land in the West Farms neighborhood of the Bronx. The project will be a mix of supportive and affordable housing for low-income families, with half of the units targeted to adults and families with special needs under the Empire State Supportive Housing Initiative, and half of the units serving families earning less than 60% of AMI. Rental subsidies and service funding for the supportive units are provided through a contract with the NYS Office of Temporary and Disability Assistance. CAMBA provides 24-7 front desk services as well as a wide range of support services and programming from a first-floor office suite. Amenities include a community room with a kitchen, a computer room/library, an exercise room, a rear yard garden and children's play area, and a landscaped rooftop terrace.