Construction Start

July 2009

Occupancy Date

November 2010

Number of Units

43 Apartments
Studios, 1, 2 and 3 Bedrooms

Building Size

44,000 Square Feet
3 Floors

Development Cost

$12 Million

Capital Financing

NYS HCR Low Income Housing Credits

NYC HPD Loan

NYC Housing Trust Fund Loan

JPMorgan Chase Bank

JPMorgan Capital Corporation

Nonprofit Partner

Cypress Hills Local Development Corporation, Inc.

Architect

SLCE Architects

Contractor

Artec Construction & Development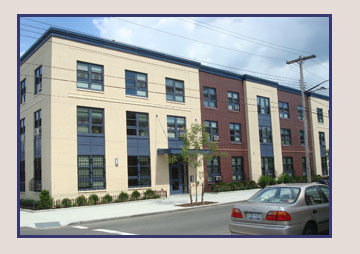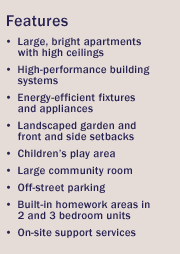 Liberty Avenue Apartments, located in a mixed residential and commercial area of East New York, is a joint-venture development with Cypress Hills Local Development Corporation, Inc., a group with longstanding ties to the surrounding community. The site was assembled with a mixture of private and City-owned land. Apartments provide affordable rental housing for working families at 30% and 60% of area median income, and seven units have been set aside for independent living for adults with developmental disabilities, with services provided both on and off-site. The building is designed to achieve Energy Star certification and incorporates many of the high-performance and energy-efficient details used in prior Dunn Development projects.