Construction Start

April 2015

Occupancy Date

May 2017

Number of Units

74 Apartments
Studios, 1, 2 and 3 Bedrooms

Building Size

71,604 Square Feet
9 Floors

Development Cost

$24 Million

Capital Financing

NYS HCR Low Income Housing Credits

NYS HCR State Low Income Housing Credits

JPMorgan Chase Bank

Hudson Housing Capital LLC and Capital One

Nonprofit Partner

Housing Partnership Development Corporation

Social Services Provider

Services for the UnderServed, Inc.

Architect

SLCE Architects

Contractor

D.P. Group General Contrators / Developers Inc.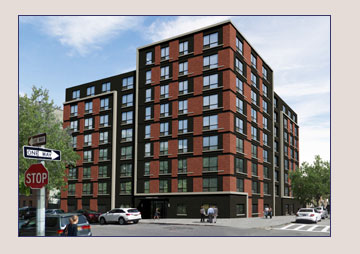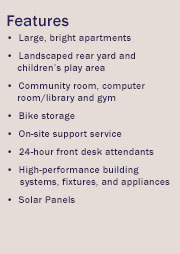 Marcy Sheridan Apartments is a newly constructed nine-story, 74-unit, elevator building located on privately owned vacant land in the East Concourse neighborhood of Bronx. The project was the first project completed under NYS Housing and Community Renewal's Mixed-Income Pilot Program, an initiative that uses income-averaging and cross-subsidization to provide affordable housing for both low-income and moderate-income households. Marcy Sheridan Apartments serves households at up to 50%, 60%, and 85% AMI, while also including supportive housing for adults with special needs. Services for the UnderServed provides 24-7 front desk services as well as supportive services from a first-floor office suite. Amenities include a community room with a kitchen, a computer room/library, an exercise room, and a rear garden and children's play area. The building incorporates extensive high-performance and energy-efficient components including solar panels.